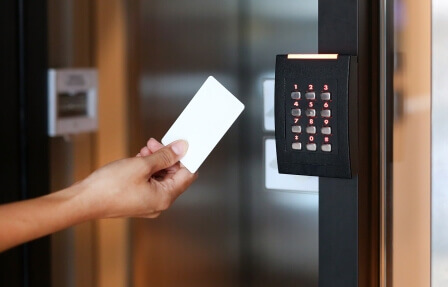 Here at Harry's we work with a wide range of building and business types, and keeping your business, home, or vehicle secure is our specialty. Your business is a valuable asset, and you should protect it. Business owners often overlook the importance of security when they don't have to. But if you want to keep your employees and customers safe, it's crucial that you consider the security of your business. Here are 3 Key Things that will help keep your business secure.
Electronic Access Systems
Electronic Access systems are popular in locations that have many doors that need to stay secure, but also allow employees to move around to different locations in the business. Having an electronic system allows you to seamlessly control who can access what areas, and makes revoking access simple and efficient. Every business has different needs, and there isn't a one-size fits all solution. By working with security professionals you can pick a system that is perfect for your business.
Alarm System
An alarm system is one of the best ways to protect your business. If someone tries to enter your building without knowing the code, an alarm will let you know immediately so that you can take action before anything happens. Alarms are also great a deterring theft or vandalism, as an alarm and the threat of police showing up will scare off a majority of people attempting to break in.
Security Cameras
Security cameras can deter crime, identify possible suspects in the event of a burglary and help business owners see who is coming and going. Today's security cameras are more advanced than ever before, and can be used in low-light situations or when sensors pick up unusual motion. Security cameras can significantly increase your peace of mind. They can be expensive, depending on your business's needs, but generally are worth the investment for businesses with a commercial property.
To keep your business secure, call Harry's Locksmith.
If you're looking for a local, family-run business in the pacific northwest that can help keep your business safe and secure, Harry's Locksmith is the answer. We have been in business for over 70 years and have become experts in all aspects of security. If you need help with any aspect of keeping your property safe—from installing locks to improving access control systems—contact us today!