How a Commercial Locksmith Determines the Hinges to Use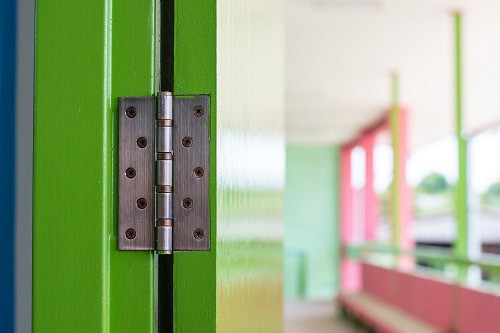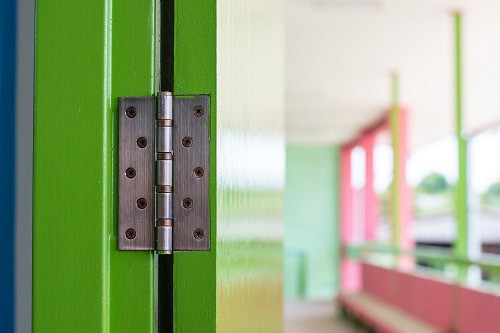 Growing your business should be an exciting venture that is full of possibility and while the company logistics should be a priority, employee and property safety needs to be at the top of the list as well.
Sure, it's fun to dream of profits margins and the customers you are sure to serve, but it's just as important to keep in mind the nuts and bolts of your commercial building.
This step is crucial for any new business owner or corporation and taking the time to learn the ins-and-outs of running a commercial building will pay off later.
Take, for instance, the doors that you will need to have installed on your property. Have you considered what type of hinges to use? It might seem small, but if you pick the wrong hinge for your doors, or worse, have your hinges improperly installed, these mistakes can lead to big consequences.
A commercial locksmith, like Harry's Locksmith, has a specific way of determining which hinges they'll install on your door. And today we're going to demystify the process.
Most commercial locksmiths will tell you that there are industry tips and tricks that the layperson is probably not aware of and one of the things that a commercial locksmith can determine is what type of hinges will best suit your space, but let's start with the basics.
What is a Hinge?
A hinge is the mechanical bearing that connects your door to the frame and while you might think that any old hinge will work on any door, your deeply mistaken. Different hinges allow different types of access to your entryway and are typically heavier so as to support metal or large doors that most commercial businesses typically have. There are even electronic hinge alternatives for doors that operate on an electronic access system. But before we discuss these varieties, let's first understand how a hinge works.
Parts of a Hinge
A hinge is made up of five basic components. The leaves, the bearings, the pin, the "knuckle", and the tips. The leaves are the metal plates that are attached to the door and the door frame. Bearings keep the hinge aligned and help protect the hinge from wear. The pin connects the leaves inside the "knuckle" and is the axis on which the hinge will bend. The "knuckle" is the hollow portion of the hinge and it creates the joint through which the pin passes. The tips, both the top tip and the bottom tip, help protect the inside of knuckle and keep the pin clean.
Now that you understand the basics, let's explore the different types of hinges that can be used for your commercial building.
Types of Hinges
Most standard commercial hinges that are architectural grade strength will have similar properties, but there are some differences that a commercial locksmith would have to decide between.
For instance, most commercial hinges are standard or heavy weight, but could have either square or round corners. A commercial hinge could be '"template" or "non-template" hinges, which means that the screw pattern can either follow architectural guidelines (which would allow a standard hollow metal door prep) or not. However, it's important to keep in mind that if a commercial door is intended for heavy use, you might want to choose a heavy-weight hinge, which will better be able to withstand the pressure of high-traffic use.
If you're interested in an electric door hinge, that is another possibility. The options for these types of hinges are wired, concealed magnetic contact, and exposed electrical contact.
There are also some options when it comes to the types of leaves on your door hinge. Leaves could be equal or unequal widths, they could be bent to compensate for a door with a beveled edge, or "swaged". You could also use any of the following bearings; ball bearings, concealed bearings, lube bearings, or "plain" bearings, but these differences will only matter to protect the longevity of your hinge, as the components tend to wear over time.
A commercial hinge might also have a joint that has any number of knuckles on them. While three is the most common design, there are certainly hinges that have five or more knuckles. And of course, the tips of your hinge can be decorative or plain.
All of these options might seem confusing, but a commercial locksmith will be more than happy to help you figure out which type of hinge will work best for your building.
Though, if you're looking to install a hinge yourself, it's important to keep in mind the cost of maintenance and how the materials will wear as time goes on. There is nothing worse than having to replace a hinge because the materials broke easily or they needed replacing after a small amount of use.
A commercial locksmith is the best way to assuage these concerns and will often guide you in selecting the choice that is most effective and cost-efficient. While the parts of a hinge might not seem pricey, picking the wrong materials that easily break or are unnecessarily expensive is not a dilemma that you should have to face.
At Harry's Locksmith, we are experts when it comes to the safety of entering and existing commercial properties. Not only will our specialists deliver superior customer service, but we pride ourselves on easy and knowledgeable installations.
If you're looking to move into your first commercial property or just want to update your hardware but don't know where to start, allow us to guide you through this process. We will make sure that you are installing your commercial hinges properly, at a low cost, and with thorough consideration as to how your hinges will wear over time.
Give us a call today and let us help you keep your business running safely and efficiently.