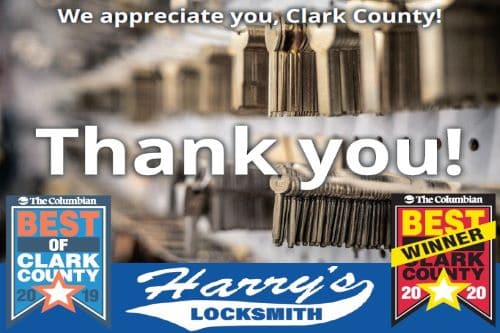 The results are in! The people of Clark County have spoken. Harry's Locksmith is the winner in Best Security Services in The Columbian's Best of Clark County for the second year in a row. 
Local Vancouver, WA newspaper, The Columbian, hosts Best of Clark County. The yearly competition asks individuals of Clark County Washington to vote for their favorite businesses based on category. We were nominated for the Best Security Services category.
Thanks to your votes and nominations you helped us win (AGAIN!). It is an honor to be recognized for such. Our team has been working hard to stay up-to-date on the latest door and door hardware technology so that we can serve you best. We are so grateful for your continued support throughout the years. We truly have the best partners, customers, and employees in the world. 
2020- Winner in Best Security Services category
2019- Winner in Best Security Services category
Stay tuned for future company updates and announcements. Don't miss out and sign up for our e-newsletter. Receive weekly product highlights, company updates, special offers, deals and more. Join our newsletter to stay connected here.
Some other company highlights that you may have missed:
A lot has changed over the course of the last few months. But our commitment to serving the Vancouver, Portland, and Salem communities who rely on us has not. 
Whether you're a homeowner in Salem or a commercial property manager in Portland, as a security hardware provider, Harry's Locksmith wants you to know that we are very much here to help.
Reach out to us today to set up a service call or request a free project estimate.