Advancements in Smart Lock Technology You'll Want to Know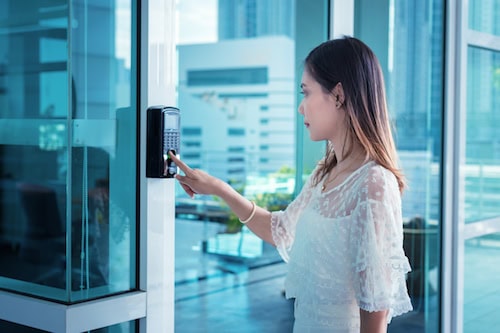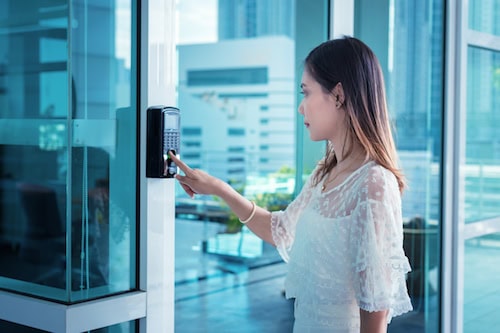 As technology becomes more advanced, thieves and burglars become more sophisticated. From identity theft to telephone spoofing, criminals are getting more creative in how they target you and your belongings.
Fortunately, even as these scams and schemes have become more advanced, so too has the technology to combat them. Harry's Locksmith, your longtime North Portland locksmith, offers top of the line door locking technology that will protect you and your valuables. We'll go over some of the more recent advancements in door locking and tell you how to best safeguard both your safety and security.
One of the more common (and avoidable) mistakes a homeowner can make is not locking the door at all. How many times has each of us left for vacation and wondered if we turned off the stove? Or been hours down the road and begun to question if we left the front door unlocked? With technological advancements, that problem has now been solved.
Many smart locks, such as Nexia Home Intelligence, enable you to control your door locks from the convenience of your mobile phone. Using an app, you can control your lock from virtually anywhere. You can even activate private codes for up to 19 friends and family members, allowing others entry to your house even when you're away.
Need a cat sitter while you're away for a few days? You can give your sitter temporary access to your home for a set time period. You can then revoke that access as needed. No more worrying about the ex who still has keys to your house! Removing the need for physical keys, smart locks like Nexia ensure that you're always in control of who has access to your home.
Some even include advanced features, such as taking photos of each person who gains entry into your house—that way you can monitor who is accessing your home and at what times.
If you're someone who often misplaces your keys, then fingerprint door locks are another good option. Fingerprint locks eliminate the need to carry keys or memorize access codes. Instead, unlocking your front door is quite literally at your fingertips.
Many fingerprint door locks have automatic features as well, eliminating the need to manually lock the door, or worry about whether you did so. You can also store multiple fingerprints so that other family members will have access to the home when you're away.
In addition to making it more difficult for others to pick your lock or otherwise gain entry into your home, smart locks also have the ability to alert you when someone does gain access. The Schlage Connect Touchscreen Deadbolt, for instance, will emit a loud beep when it senses activity, such as movement around your front door, tampering, or forced entry. This will enable you to quickly detect when you have an unexpected houseguest. In fact, the Schlage Connect Touchscreen Deadbolt has received the highest possible grade in security, durability, and finish.
Of course, the best advancements in door locking technology will enhance both security and convenience. As technology advances, we have the opportunity to do more with less. In addition to keeping your home secure, many smart door locks will also control other features of your house.
The Yale Real Living Keyless Touchscreen Deadbolt, for instance, connects with your home's smart devices so that you can turn on lights or even the coffee pot upon arriving home. It also protects your privacy. If you're having a romantic dinner, select the privacy mode, which will temporarily lock out everyone that has an access code to your home.
Furthermore, some smart locks take your safety one step further. In addition to safeguarding your home against burglars, they enhance your safety by communicating with other life-saving devices. For instance, you can have doors unlock when a smoke or carbon monoxide detector is triggered, enabling you to more quickly exit your home in an emergency situation.
Another way smart locks make life simpler and more convenient? Not only do they help you keep better tabs on your home, they also have the ability to help you keep better tabs on your family.
Have an unruly teenager who likes to sneak out of the house or break curfew? Certain smart locks, such as Yale Lift Master, will help you monitor the comings and goings of your child. Many smart locks will send text alerts to your smartphone, allowing you to know when the door has been opened. Such features help to keep your family safe in more ways than one.
Some smart locks can be installed over your existing locks; others will need to have a new system installed altogether. Whatever lock you ultimately choose, Harry's Locksmith will ensure that installation is quick and easy.
We've been operating as a North Portland locksmith for seven decades, providing a range of commercial, residential, and automobile services. We'll make sure your home is secure. After all, thieves and burglars are often looking for easy access and entry. Simply having the most advanced technology often serves as a deterrent.
Days of leaving keys under the front doormat for visitors and neighbors are gone. Today, you have to be much more savvy when it comes to protecting your space. Using some of these advancements in door locking technology will help keep your family safe.
If you're trying to decide the best lock for your home or office, contact your North Portland locksmith today. We'll assess your needs and help you determine which door locking technology is the best fit for you. Security is our top priority. Give us a call so we can make sure it's also yours.