5 Keyless Entry Options for Businesses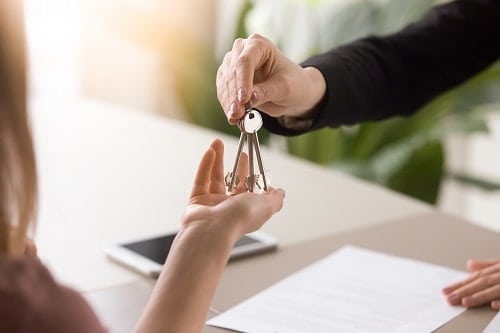 We've all experienced that moment; you get to the door and suddenly realize you don't have your keys. Maybe it's just as you're walking out of the building after work. Then, suddenly the door slams shut behind you. It's too late to react. You're already locked out.
It's tough dealing with these types of situations, but your company still shouldn't sacrifice security for convenience. We certainly understand that and we don't believe you should have to. That's why Harry's Locksmith has the solutions for you. Here are our top five keyless entry options for businesses.
Biometric
Not only can forgetting or losing your keys be frustrating, but it can also compromise your security. Keys that are lost on the street can be picked up by anyone or duplicated so that you're no longer in control of who can access your building.
If you want to have peace of mind by maximizing your building's security, a biometric entry system may work best. Biometric locks are a secure option because they require you to verify your identity before gaining entry to a building. Additionally, such locks are able to time-stamp entries so that you know exactly who is entering your building and when.
Many biometric locks have a two-step authentication system for enhanced security. First, the device will scan your fingerprint to confirm your identity. Next, you'll enter a code into a keypad to unlock the door. Biometric locks are great options for small business owners since they can typically be programmed with up to 100 fingerprints.
Keypads
While biometric locks work well for smaller businesses or restricted access areas, you may want to select another option if you have a large business that sees a lot of foot traffic. Keypad locks are a good option because they allow quick access into a building by simply entering a code into a keypad. With these types of locks, you select between electronic and mechanical.
Electronic keypads are battery operated and light up by touch. This is an excellent feature if you have people entering your building after dark. The light will make it easier for access codes to be entered quickly and accurately. The important thing to remember with electronic keypads is that you'll need to change the battery every so often or you may get locked out. Electronic keypads are often equipped with a backup key for that very reason.
Mechanical keypads are a good alternative if you don't want to switch out batteries. One downside of keypads, however, is that once someone leaves your company, they'll still have access to your building unless you change the code. That's less than ideal if you have a company with a high turnover rate. In that case, you may want to explore other options.
Key Fobs
Key fobs are electronic devices that can be scanned in front of a reader. The reader takes the data from the fob and transmits it to a central server, which will then grant access to the building. Key fobs are great keyless entry options for large businesses for a couple of reasons. First, the system retains the scanned information so you'll have a record of who entered the building at that time. Second, the device can be deactivated once an employee leaves the company.
With key fobs, you can also customize access to each individual fob. That means if you want certain parts of your building to remain restricted, you can make sure only certain key fobs are activated to gain entry to those particular areas. With customization options and easy deactivation, key fobs are an excellent way to make sure your business remains secure.
Intercoms
Certain buildings, particularly those occupied by children, benefit from the use of intercom systems. Intercom systems are typically equipped with video and enhance security to make sure that whoever comes to the door is thoroughly vetted prior to entry. Once a person's identity has been verified, the intercom system's master user can press a door release button. That button is connected to electronic locking hardware, such as an electric strike. Once pressed, the button will disable the lock so that the person can gain entry into the building.
Another way intercom systems keep your building secure is by storing video so that it can be viewed at a later time. This is particularly important if you need to go back and review building entry footage for any reason.
Smart Locks
In today's world, there are all sorts of smart devices. This includes door locks. With smart keyless entry, access to your building is literally at your fingertips. By using your smartphone, you can lock or unlock your building remotely. Have someone swinging by? You can unlock the door for them without having to physically go to your building. You can also give your employees digital keys and receive notifications when your building has been accessed. This will allow you to monitor the building even when you're away from town on a business trip, for instance.
Did you have an employee unexpectedly leave the business? You can easily revoke access remotely as well. At just the touch of a button, you can lock and unlock, and track your building even when you're far away.
Are you ready to upgrade your building locks to a keyless entry system? Unsure which is the right option? Harry's Locksmith is here for you. We want to help you find the perfect balance between security and convenience. You shouldn't have to sacrifice one for the other and we'll make sure you don't have to. Give us a call and we'll assess your building needs so that we can unlock the right solutions.